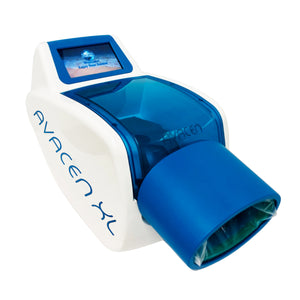 AVACEN HOME XL™ is an FDA Cleared, over-the-counter noninvasive medical device (US Shipping Address Only) or AVACEN R3 HOME XL™ Relaxation System (US Export Only).
FEATURES:
Color Touch Screen
Video & Sound
Robust Design – Extended Life
Larger Hand Accommodation
Extended Treatment Sessions
Pop-On, Pop-Off Cuff

Asian Language Character Support
INCLUDES: 
User guide access, power cord, and power supply for each device
25 AVACEN Mitts for each AVACEN HOME XL™ Device
60-MONTH WARRANTY (The replaceable, Pop-On, Pop-Off Cuff Bladder is NOT COVERED under the manufacturer's warranty.)
DEVICE WARRANTY IS VOIDED IF AVACEN MITT IS NOT USED.
One AVACEN Mitt should last 150 to 250 treatments under normal daily use.
As long as the device has remained under warranty at the end of each year, you may upgrade to ANY AVACEN DEVICE for 50% of the then current retail price.
Note: 10% restocking fee will be accessed on all returns according to our 30-Day Guarantee Policy.