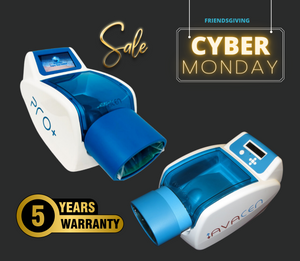 Purchase an AVACEN XL with 5-Year warranty and receive a FREE AVACEN HOME device.  
Unwrap the gift of wellness on CYBER Monday with AVACEN Medical's exclusive deal! Purchase the PRO+, HOME XL or CSS and receive our HOME Device for
FREE.
In the spirit of giving, you can gift your FREE device to a friend or family member. Elevate your well-being this holiday season and share the joy of innovative health solutions. Don't miss out—experience the exceptional benefits of AVACEN's devices while spreading the gift of wellness to your loved ones. 
CYBER MONDAY EXTENDED through Thursday, November 30th until 11:59 PM PDT
Use Code: A500 at checkout, does not apply to our specials. 
INCLUDES CONSUMER PRODUCT LICENSE
INCLUDES: a non-exclusive, non-sublicensable, revocable license, including a limited license to U.S. Patent Nos. 8,679,170, 9,066,781, 9,192,509, 9,687,385, and 10,537,464, as well as foreign equivalents to the foregoing, to use the CONSUMER PRODUCT solely for non-commercial purposes. For avoidance of doubt, the license EXCLUDES use, rent, or lease of the CONSUMER PRODUCT by any third party in exchange for fees or any form of compensation.
INCLUDES: 60-MONTH WARRANTY (NOTE: The Vacuum Chamber Insert CUFF is NOT COVERED under the manufacturer's warranty.) 
INCLUDES: User guide access, power cord, and power supply for each device.
DEVICE WARRANTY IS VOIDED IF AVACEN MITT IS NOT USED
Note: 10% restocking fee will be accessed on all returns according to our 30-Day Guarantee Policy.